Wichita storage unit specials – Give a referral, get $25!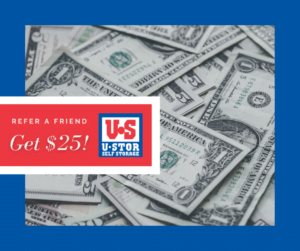 Whether you're our customer or not, U-STOR Wichita offers a $25 check or credit for every successful storage unit referral given.
Be sure your referral includes your name on the "how did you hear about us" part of our move-in special form. You'll get $25 and they'll get a BIG storage unit discount of 50% off their first month's rent!
We love our customers and want even more of them. Tell a friend to shop local for Wichita storage specials and you both will make money!
50% Off Move-In Special Form