Drive-Up Storage Units
Ground level storage at all 7 locations means you can simply drive up and unload. No lugging, no elevators!
Looking for Drive-Up Storage Units Near You?
When it comes to packing, moving, or storing large items – the last thing you want to do is lug items with dollies up or down elevators. Here are just a few of the many reasons drive-up storage units will help U-STOR faster!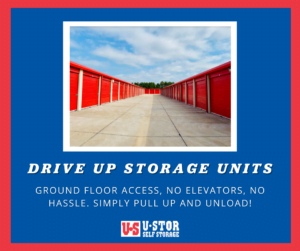 Convenience – With ground floor storage, you can simply drive up to your storage unit and begin unloading. Storing large items or even cars means you can cruise up (or in) and unload.
Room to Move – Ground-level access means wider aisles, so you'll be able to drive moving trucks right up and unpack large items such as office equipment when using our business storage units or for moving large furniture.
Speed – Drive-up storage allows you to quickly pull up to your unit, unlock, and grab what you need. Keeping your unit well-organized helps with easily finding items, too. Check out a few storage tips to help out with that. Your time is valuable – and we won't waste it.
U-STOR offers monthly specials to find cheap Wichita storage units near you at all 7 locations. Reserve your move-in special storage pricing and save now!