Jobs at U-STOR Wichita
We're Hiring for Both Full-Time AND Part-Time Assistant Manager Positions!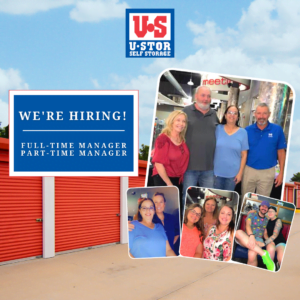 U-Stor Self Storage is currently hiring a Full Time and/or Part Time Assistant Manager to work at various U-Stor locations throughout Wichita.
Candidates will be responsible to run all daily operations of the storage facility which will include answering sales inquiries, showing storage units, leasing storage units, posting payments, cleaning storage units, leasing Penske moving trucks, maintaining office files & performing all aspects of customer service.
Candidate must have driver's license and ability to get to multiple locations.
These positions are for Friday, Saturday, and Sunday (or just Saturday and Sunday if that fits the candidate's schedule). Additional days are available during the week. Hours are Monday – Friday from 8 AM – 6 PM, Saturday from 8 AM – 5 PM, and Sunday from 11 AM – 4 PM.
These positions will average anywhere from 14-40 hours per week depending on candidates' availability. Starting wage is $13.00 per hour and includes monthly bonuses. Our full time position also includes excellent benefits and health insurance. Apply here to join our growing, fun team!