Coasting around in a search for the Best Wichita Storage Units? Here's Why U-STOR Tops Our Competition!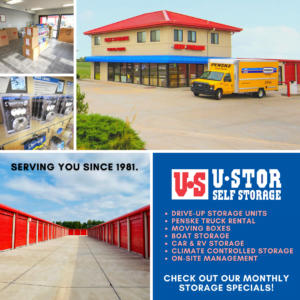 U-STOR has been serving local storage needs since 1981. We've grown to 7 Wichita storage facility locations, all of which have ground floor storage unit access. U-STOR proudly provides all of your moving services and storage needs – from start to finish.
Drive-up storage access means dragging or lugging up flights of stairs in and of elevators
24-hour surveillance, on-site management
Moving supplies include everything from moving boxes,  moving dolly rentals, and moving truck discounts through Penske truck rentals 
Boat storage, RV storage, car storage, and commercial or business storage unit solutions
Climate-controlled storage units keep furniture and weather-sensitive items safe
Monthly move-in storage unit discounts mean cheap storage at 7 Wichita locations. Find your nearest location and save now!