Use Moving Boxes for DIY Christmas Decorations
We understand that budgets can be stretched thin for many families during the holidays, so U-STOR has come up with a handy DIY fun project for the whole family to create cheap Christmas decorations together using non-other than something we know a lot about: moving boxes!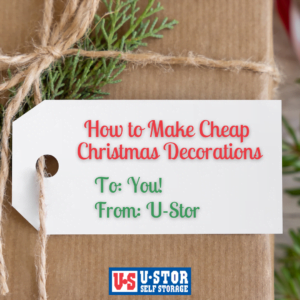 DIY Christmas Presents Using Moving Boxes
Keep it simple and find festive ribbons to wrap around cardboard boxes for a natural look. Candy cane stripes or plaid ribbons with a sprig of greenery tucked under make a good contrast!
If these will be outside holiday decorations, be sure and place boxes under a covered porch or use wrapping paper with a plastic back. Also, place a rock or sandbag inside to weigh boxes down.
Wrap boxes of different sizes, then stack them (placing the largest box at the bottom). Use a ribbon (and tape if needed) to secure them. Find pictures and read more in this helpful article!
DIY Christmas Ornaments Using Moving Boxes
Lay the box flat. Next, use a large round tray (pizza trays work well), then trace around the edge to create a circle on the box. Draw a teardrop shape at the bottom and a cap & hook at the top.
Carefully use a cardboard cutting knife and cut your bauble Christmas ornament shape out, then paint the box white.
Once dry, use a pencil to sketch a shape you (or the kiddos) would like on the ornament. Select some festive colors, put down a plastic sheet to protect your floor, and paint away!
Once dry, your DIY ornaments are ready to hang! Simply tape ribbon to the back and use a push pin (or better yet, non-damaging adhesives) and hang. Check out this article to see photos for help!
Find pictures and more inspiration on how to use cardboard boxes for cheap Christmas decorations here! Not only can you create these decorations cheaply, but you can also save on moving boxes through our monthly newsletter. Simply sign up at the bottom of this page!
Once the holidays are finished, U-STOR can always help you save on moving and storing decorations with our monthly cheap storage specials and moving truck rentals. See our Penske moving truck discounts!