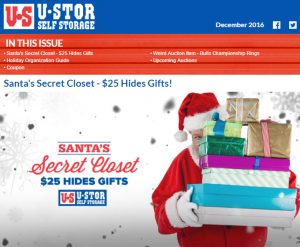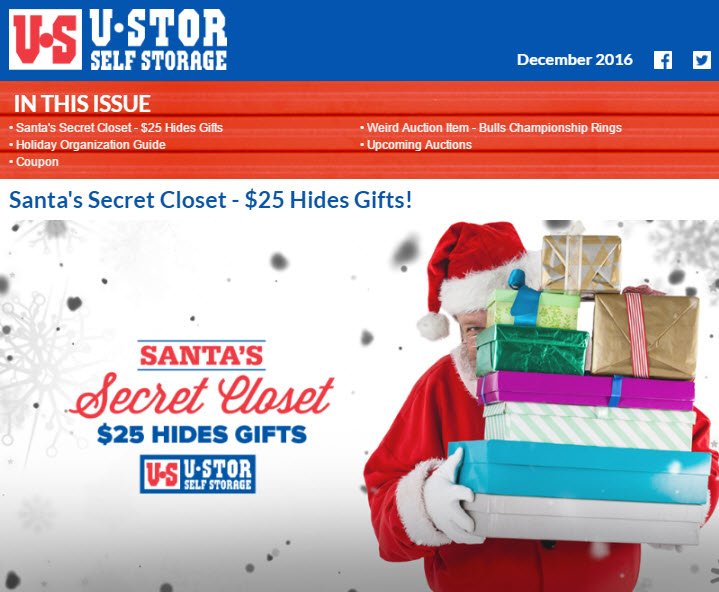 In each issue of the U-Stor newsletter, we provide readers with helpful information they can use in their daily lives. We also reveal auction times, coupons/specials, and share the many weird items people have found in storage units over the years.
Featured in the December Newsletter
Santa's Secret Closet Special – Through the month of December, U-STOR is offering a $25 special to new AND current customers. Use the storage unit to keep gifts safe from spying little eyes, de-clutter a room, or any other use you can think of.
Holiday Organization Guide – The busiest time of the year is upon us. One minute you're humming Silent Night while casually picking out a box of Christmas cards and the next minute – BAM – December is here and it wants all of your attention. Let us help you get organized with a week-by-week guide to help you dash through the remainder of the season faster than a one horse open sleigh.
15% Off Boxes and Gift Wrapping – You NEED boxes. We HAVE boxes. Visit any one of our six Wichita U-Stor locations and Maize U-Stor to check out the wide variety of sizes.
Upcoming Auctions – At least twice a month we hold auctions at one or all of our seven U-Stor locations. Auctions are silent bid only. Follow us on Facebook to find out when storage units are available for preview. Open the newsletter to find dates and locations.
Weird item of the month – Hint: Expensive Bulls Bling