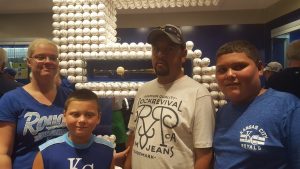 This month's spotlight feature is shining on Natasha Doneff-Jiminez. In addition to being a busy mother of two, college student, and baseball fan, Natasha manages our U-Stor University location, a position she's held for the last decade. As one of Wichita's premier self-storage companies, we have the important job of keeping customer property safe and secure. That's why we think it's important to introduce the faces behind the company. Let's learn more about Natasha…
What do you like best about working for U-STOR?
I enjoy working for the company because they understand that I have a family (my husband and two sons) and they are flexible. Since I have been here so long I know a lot of people in the area. My oldest son is in middle school and some of the kids he went to daycare with, now attend the same school. Also, I LOVE my assistant at U-Stor University, Niki Bridges, we get along great, work well together, and our customers know us as the two blondes at University.
What do you do in your spare time?
I like spending time with my family.  My two sons play baseball with League 42 in the Spring/Summer and that really keeps us busy during those seasons. I like going to the Downtown YMCA to walk around the track. I like to listen to music. I am very close to finishing up my bachelor's degree in psychology at WSU. I am about 17 credit hours away from graduation. I only take a couple classes at a time since I am a parent and work full time.
Do you have any pets?
I have one dog, a German Shephard, named Rusty.  He's our watchdog who helps secure the property.
Why should people rent from U-Stor over any other Wichita self-storage company?
I think people should rent at U-Stor because we offer excellent customer service. We have seven different locations to serve their needs. At U-Stor University we get a lot of returning previous customers so we must be doing something right.
One more fun question – If you could visit anywhere in the world, where would you go and why?
I have been to Mexico many times as my husband is from there, but I have never been to Cabo San Lucas.  I would love to go there to see the beaches and just relax and get away from it all.