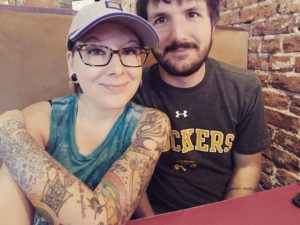 This month, our Employee Spotlight celebrates a grad school student with strong humanitarian beliefs who enjoys the daily interaction she gets with U-Stor tenants. February is a fitting month to tell you more about our U-STOR Maize manager because her heart melts on a regular basis for teeny 4-legged friends including a new dog recently adopted from the Kansas Humane Society. Let's learn more about Whitney.
What do you do in your spare time?
I'm in grad school and I'm a teaching assistant, in addition to working at a fellowship. Spare time is not a thing I'm terribly familiar with, but on the rare occasion I happen upon some, I like reading, writing, cooking, playing guitar & ukulele (not at the same time – I'm not that good), singing (choir, karaoke, shower/car), competitive trivia, road tripping to see concerts, alternating between The Office and Parks and Recreation, and hippie-dippie activist stuff.
Do you have any pets?
Yes! My husband Eric and I have a 6-year-old American Eskimo named Snowy, and a 6-year-old Italian Greyhound/Chihuahua mix named Saffron. Saffron is the new kid on the block – we just adopted her on February 7. Both girls are from Kansas Humane Society.
Why do you like working for U-STOR?
U-Stor Self Storage is by far the best job I've ever had. I started working here as an undergraduate student, and though it doesn't necessarily fit my degrees (a BS in Health Services Management & Community Development and a BA in Women's Studies) I have stayed because it's simply a great place to work. I feel taken care of, supported, and respected, and (most days) the job itself is fun too. We meet all kinds of people from all walks of life, and often we get to hear their stories and act as somewhat of a therapist. I enjoy the relationships I've developed with my tenants, as well as many of my co-workers. What started out as just a good job for a student turned into a truly fantastic career. I graduate with my master's degree in May, but as of now, I have no plans to leave U-Stor.
What food do you wish had never been invented?
Iceberg lettuce! Get outta here with that nonsense!
Why should people rent from U-STOR?
I think what sets us apart from the competition are many of the same things that make this a great place to work. We're not too small, not too big. We're established and have multiple locations, but we're all local. We're not corporate, with a main office out-of-state that doesn't know what's actually going on at the properties. We have the resources to take care of our customers and we're trusted and empowered by our leadership to do that. Very rarely do I have to respond to someone with, "I'll have to ask my boss," because I feel comfortable and capable of making decisions myself.
Do you have any unique or quirky habits?
Well, I already mentioned singing in the car and shower, so there's that. I'm also a list-maker. If I don't write it down, it's not happening. There are days I write "make list" as the first item of my list, just so I can cross something off. One more. I cover EVERYthing in sriracha.
If you could have dinner with any person living or dead, who would it be?
Oh dang. This is a tough one. Right now, I'd say Elizabeth Warren. Because nevertheless, she persisted.