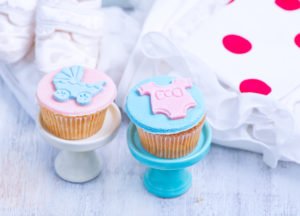 Is planning a baby shower in your future? We've got some easy, budget-friendly ideas for making you the best hostess EVER! Attending a baby shower for a friend or family member is a fun way to get the mother-to-be ready for her new little bundle, but if you're the host, the pressure to have a Pinterest-perfect party can be overwhelming, especially if you're on a budget. Don't stress! We're here to help.
Consult With Mama First
Before you plan an hour's worth of raucous baby shower games or an elaborate craft project, consult with the guest of honor. A shy mom might want to keep the party short and sweet with very little fanfare, while another mom may insist on playing the melt-a-chocolate-bar-in-a-diaper-and-giggle-because-it-looks-like-poop game. You just never know.
Paper Decorations
Whether you already know the sex of the baby, or maybe you'll be doing a gender reveal at the party (see below) you can find inexpensive, yet still lovely decorations without taking out a small loan. Check out the bargain aisle at any Michael's craft store, Dollar Store, and Target's One Spot bins. Remember, most of the paper goods will just be thrown away so it doesn't make sense to spend a fortune. Then, include a few keepsake decorations that can be personalized.
Keepsake Decoration Ideas
Framed baby pictures of mom and dad
Framed sonogram picture
Scrapbook page for baby book for guests to sign
Baby name embroidered on a hooded bath towel (centerpiece)
Classic Baby Shower Games
Again, consult with the baby mama before you plan games to find out if she has a preference. Many classic games can be obtained online and printed for free or constructed relatively easy.
Word Games – Baby Bingo, Mom and Dad Trivia, Baby Shower Mad Libs, etc.
Don't Say BABY Clothes Pin Game – Each person is given 5 clothespins to wear. If someone catches them saying the word BABY, they have to forfeit a clothes pin. The person with the most pins at the end of the shower wins a small prize.
Draw Baby With a Twist – Hand out plain white paper plates to your guests along with markers. Tell them they'll be drawing a picture of the new baby, then before the game, reveal they have to hold the plate on their heads while drawing. Hilarity ensues.
Gender Reveal
Right now, gender reveal parties are incredibly popular. Mom and dad ask the doctor to write down the sex of the baby and seal the information in an envelope which is then given to a baker or trusted friend who plans the big reveal. This is the perfect event to incorporate into a baby shower. The sex of the baby can be revealed by cutting open a cake, opening a large box filled with pink or blue helium balloons, the possibilities are endless.
Not Quite Ready for Baby?
If you're moving to a larger home or you're not quite done painting the nursery, let us help store the arsenal of baby supplies you'll need for your new arrival. We have seven U-STOR locations in Wichita and offer both short term and long term rental agreements on a variety of sizes.