Home Staging on a Budget
Posted on May 5, 2017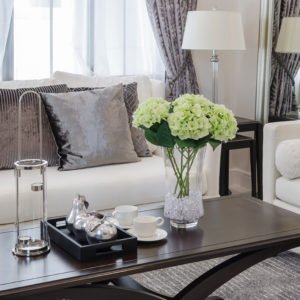 Staged Homes Sell Faster
A 2015 study by the National Association of Realtors stated that 49% of their buyers were positively affected by home staging. A 2016 study conducted by Staged Homes concluded that 95% of ASP staged homes sell in as little as 11 days. Clearly, staging is where it's at. If you have the budget, you can hire a professional to whip your house into shape, but if you're pinching pennies, here are a few ways to do it on the cheap.
Three Staging Must Dos and One Big Nope
Must Do
De-personalize – "Most agents tell sellers to remove family pictures so the potential buyer can see him or herself in the home" said Lynette. "Also, photos can be a distraction. You want people looking at all the great things about your home, not pictures of the dog."
De-clutter – Lynette advises removing as much furniture and other items as you can, even if you need to find temporary storage. "You want the home to look lived in, but you also want to maximize the space." Don't forget about the bedroom closet, bathroom vanity, and pantry areas. Storage is an important selling point.
Neutralize Color Palate –  If you decide to repaint before you list your home, Lynette suggests painting in neutral colors, then using accessories to add a pop of color to each room. Throw pillows, artwork, flowers, and other tasteful decorations work nicely to add color without clutter.
Big Nope
Don't overpower the home with smells – Potential buyers should walk in to a house that smells fresh, but not like bleach. You want the home to smell good, but not assault the senses. Lynette said the best advice is to stay away from strong-scented cleaners and air fresheners that often leave people wondering what bad smell the owners might be masking. Home baked cookies can be a nice touch, but not necessary. Most importantly, Lynette says to banish all pet smells, which can be an immediate turnoff to potential buyers.
If you need temporary or permanent storage, U-STOR offers 11 different sized storage options including climate controlled units.