What's the Best Wichita Storage Unit Size for You? Here are 6 things to consider.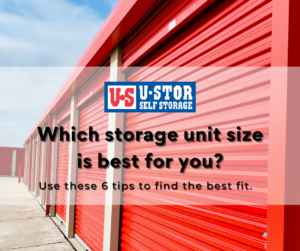 1. Inventory – What will you be storing? Make a list, so you don't forget!
2. Identify – Consider sizes, weights, and shapes. Can your items be stacked on each other or will they need their own space?
3. Measure – Pack and stack items then use a tape measure to double-check the size.
4. Time – How long will you be storing these items? Will you be storing items in the future? How big are they? Make sure your unit can accommodate those sizes so you don't have to move later. Some items may need proper ventilation over time as well.
5. Temperature – Are the items you're storing weather-sensitive and prone to deteriorate from harsh hot or cold Kansas weather? You might need a climate-controlled storage unit. Check out what items (clothing, instruments, etc.) might need climate-controlled storage.
6. Frequency – Will you be visiting your Wichita storage unit often? Create an aisle to easily access your items. You may also consider storing in a climate-controlled unit to stay comfortable during your visit.
Now that you've got a good idea of what you'll be storing, check out U-STOR's sizing guide to determine what storage unit size is best for you. Next, check out our move-in specials to find a cheap storage unit near you in one of 7 Wichita locations.
U-STOR is proud to be local since 1981. We take pride in making every customer's experience a great one with easy drive up and unload ground floor access at every location.  We also provide contactless service to keep our customers safe. Find, reserve, and pay rent for your storage unit entirely online!