Meet Ruby, Manager of U-Stor West Central!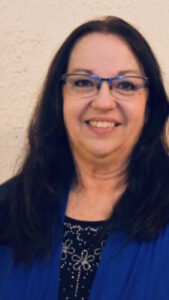 Without our managers, U-Stor would not be the great Wichita storage company it is today. "Manager Minutes" are quick interviews we spend asking each of our awesome on-site storage managers a little bit about them.
Ruby, Manager of U-Stor West Central, answered a few quick questions for us. Thank you for your 10+ years with U-Stor, Ruby!
What is your favorite thing about working at U-Stor? 
I love that U-Stor is a small & very personal company – and that we all know each other. They treat us & our tenants with personal concern, yet maintain quality & professional standards.
What is your proudest challenge you've overcome during your years at U-Stor?
I enjoy getting to know my tenants on a personal level & do all I can to keep their possessions safe & secure. I know who is coming & going by seeing their vehicle. If it is not a familiar person or vehicle, I will check into it. We have video monitors in the office & our apartment. 
What are some of your favorite things to do/hobbies outside of work?
I love, love, love spending time with my husband of 42 years (who is a natural clown) & our 2 adult kids & 5 grandkids (4 girls & 1 boy)! I also spend time at our church with our church family. We also have 3 small dogs – one showed up as a stray and adopted us. We've also had many box turtles that have shown up on the property & could have been run over if we don't move them to a safe place. We also had a Pomeranian named Meisha for 17 years who sadly passed away this year.
Some of our hobbies involve all things automotive. We used to show & race cars, but now we mostly just do things for our enjoyment. I also love gardening of all kinds & love being out in nature with all kinds of wildlife.
What is one talent/feature about you not many people know?
I used to be a school bus driver for 8 years, while my kids were in school. A bus driver can set the tone for a good or bad day! Kids are an important part of our future. They need & deserve positive attention!
What is the strangest thing you've encountered during your 10+ years at U-Stor? 
I have had human ashes left in several storage units over the years. When I couldn't reach the person who had rented it, I had to call the mortuary. One mortuary was no longer in business, so I've tried to reach the person on social media.