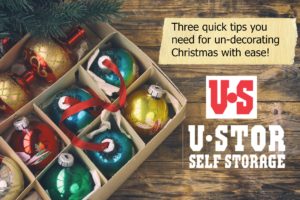 Do you remember back in late November when we eagerly anticipated the prep work of the holiday season? For many of us, as soon as the last bite of turkey was devoured on Thanksgiving, we shouted, "Let's decorate all the things!" With the season winding down, it's time to bundle everything back up to be safely stowed away until next year. If you're dreading this chore more than stepping on the scale after eating all those pieces of Rocky Road fudge, keep reading – U-STOR'S three quick tips for packing away Christmas decorations.
Organize Decorations By Room
As you un-deck the halls, separate items into piles according to room. Chances are, you'll notice most things have an annual designated spot. The nativity scene is always perched on the mantle, the snowman candle holder sits on the counter, etc. Sorting and packing by room will make next year's decorating a snap.
Invest in Plastic Tubs
Boxes can be easily crushed, dented, and damaged by water. Investing in plastic tubs with lids will help keep all your decorations safe and organized. Plus, they can be stacked with ease so they take up less space. Take the items you have already sorted by room and place them securely in tubs. IMPORTANT – Don't forget to label containers by room. If you're running out of storage space for the tree, the tubs, and the outdoor reindeer you bought on clearance last year, let U-STOR tuck everything away until you need it again. Reserve online now.
Pack Hacks for Ornaments
Don't risk fragile, petite, and treasured items being crushed or broken. It's always best to store items in their original packaging, but if that's not possible, here are a few packing hacks to keep items safe during their hibernation.
Use egg cartons for mini glass ball ornaments
Cookie tins make great containers for larger ornaments
Resealable sandwich bags keep glittery ornaments from shedding
Sandwich bags are also perfect for dough, pretzel, macaroni, and other food-based items
Fill empty space between ornaments with tissue paper or shredded wrapping paper
IMPORTANT – Remember to take candles out of decorations before you store them and NEVER store candles in the attic.
With seven Wichita locations, U-STOR has a facility close to you. Keep us in mind for all of your moving/packing needs.