U-STOR has seven locations in the Wichita area, so no matter what side of town you live on, you can find reliable self-storage close by. Managers live onsite at these properties to monitor the overall safety of the items stored there. These team members play a unique and valuable role in keeping our stores, clean, safe, and running smoothly for our customers. This month, we'd like to introduce you to Waynetta, manager of U-STOR George Washington. Let's find out more about Waynetta.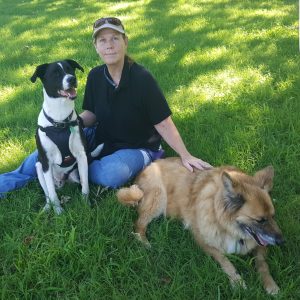 Since 1995, Waynetta has been a staple at the George Washington location. She left the company briefly to pursue a career in nursing, but when her oldest daughter suffered a stroke caused by a brain aneurysm, she returned. The flexibility of the position allowed her to provide the care her daughter desperately needed.
The owners and staff are terrific people. They are very family oriented and care a lot about their employees.
In addition to the flexibility, Waynetta enjoys being part of the U-STOR family because of the camaraderie of the other managers and immediate supervisor, Troy Hagerman. "Because our corporate office is local, we can get answers or assistance quickly, usually within minutes," she said. "Troy will always listen to our suggestions and requests. He has a heart and will do his best to help with a tenant's problem if he can."
My dream vacation is going to Ireland and getting to ride a horse along the Dover Cliffs, and visiting a real castle.
When she's not working in the office, Waynetta spends her free time vising with family and friends, listening to audio books, playing with her dogs, and riding her new horse, Tracer. The photo of Waynetta and her dogs is bittersweet because of the recent passing of her 13-year-old German Shepherd mix, Hopper. "My younger dog, Lotto, is a Lab/Border Collie mix," she said. "He is the weird crazy one and Hopper was the serious old man."
Our managers truly care about our tenants. We all go above and beyond what our job descriptions require.
Waynetta believes the success of U-STOR stems from the cohesion of the management team. "All the managers assist each other with whatever needs done," she explained. "Even though we don't see each other very often, we keep in touch and offer help if needed, either work or personal." She also added, "It is not unusual for any of us to stay late or open after hours to help a tenant."
U-STOR George Washington is located at 1775 George Washington Boulevard. If you live on the south side of Wichita, give Waynetta a call and ask her about monthly move-in specials. (316) 559-2820.