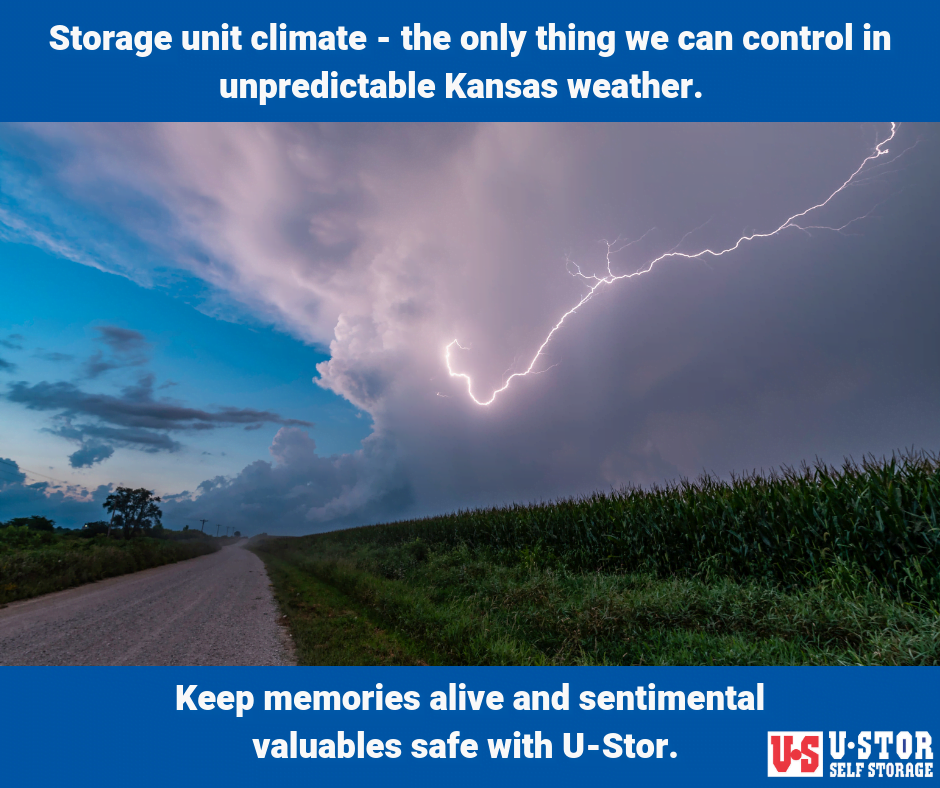 Because We Live in Wichita, Kansas.
We all know here in Wichita, Kansas, and surrounding areas our extreme weather can go from sunshine to rain in a matter of minutes. Valuable and sentimental items in your storage unit can be ruined if temperature and moisture aren't controlled.
Climate-controlled storage is kept at no more than 85 degrees year-round and maintains a consistent humidity level. Climate-controlled storage units basically act as an air conditioner, heater, humidifier, and dehumidifier all in one to keep your items in their best condition.
So what needs to be stored in climate-controlled units? These items could be ruined without it!
Wooden furniture – Wood can warp, crack, and rot when exposed to too much moisture over time. If you're storing items like bed frames, dressers, mirrors, tables, chairs, nightstands, and entertainment centers, climate-controlled units are absolutely necessary.
Leather furniture – Leather is extremely sensitive to drastic changes in temperature and moisture level, which can cause discoloration and mildew. We all know humidity and temperature here in Kansas change drastically every day. Keep your expensive leather in good condition with a climate-controlled unit.
Appliances and electronics – Electric and mechanical components can crack or rust with extreme temperature and moisture changes. Moisture and mildew can be created in items like refrigerators if not controlled as well.
Collections and antiques – Items like art, posters, coins, wine, books, comics, playing cards, or stamps that are full of sentimental value can deteriorate with fluctuating temperature and moisture. Climate-controlled units are a must to keep the items that mean so much to you in good shape.
Photos and artwork – Moisture and temperature control is a must for delicate photos and art. If temperatures get too high, prints can blend together and deteriorate over time.
Clothing and bedding – Bringing those winter sweaters into storage and taking summer dresses out for some sunshine? Storing your seasonal clothing and bedding requires dry storage. Changes in moisture can bring mold or mildew and ruin your favorite seasonal clothes.
Instruments – Strings and wood that make up pianos, guitars, or violins can easily be damaged by moisture and temperature change. Strings can snap and wood will crack with changing Kansas weather conditions. High heat and humidity can also effect brass in instruments like trumpets or saxophones, causing corrosion and bacteria growth in them.
Business documents – Important files and documents can fade or be discolored with changing humidity. Keep them safe with year-round moisture control in a climate-controlled unit.
Climate-control when storing items is an absolute must in Kansas. Our extreme weather is unpredictable by the day (and hour). Keep your cherished, valuable, and sentimental items – and memories – safe and secure year-round with a U-Stor climate-controlled storage unit at affordable prices!