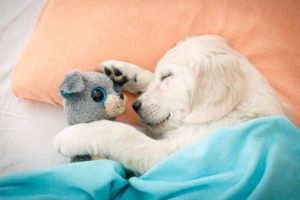 Moving to a new home is an exciting, albeit stressful time for the whole family including our pets. Before you start packing the moving truck, take a few minutes to read the tips below. Taking the proper time and care to prepare your four-legged pal for new surroundings, a different neighborhood, and riding in a vehicle or plane, will make the trip more enjoyable for everyone.
Pack a Bag
Before every item in your home or apartment is stowed away in boxes, take a moment to pack a bag of pet essentials including a small water dish, bottled water, small bag of food, favorite toy, blanket, etc. This way, whether you're making a road side pit stop or staying overnight at a pet-friendly hotel, your furry friend will have creature comforts to put him/her at ease. Having these familiar items on hand for the first few hours or even days in the new house or apartment is also a good idea.
Warming up to the Personal Carrier
On any street in America it's not uncommon to see a cute pup hanging his head out the window enjoying a bit of fresh air. To avoid distraction and injury to you and your dog, it's better to transport them using a kennel, crate, travel carrier, or special doggy seat belt. Cats also require a special travel box or crate. If the carrier is new to your pet, bring it out a few weeks or days before the move so he/she can examine it, spend time climbing in and out, rubbing their scent on it, and associating the item with something familiar and cozy rather than scary.
Confining Your Pet For Safety
With all the hustle and bustle of moving out or in to your new home or apartment, it's easy for even the most docile pet to get scared or agitated. Your dog or cat may want to hide from the noise and activity, especially if you have unfamiliar movers walking in and out. To keep your pet safe, calm, and to prevent them from running away, isolate them in one room with a small amount of food and comfort items. Check on them frequently, especially in the new house, and provide a few reassuring belly rubs.
Keep Pet Documents Handy and Updated
Gather current health documents including vaccinations, micro-chip details, your veterinarian's telephone number, a photo of your pet, and any license numbers you may have. Visit the new vet as soon as you get settled into your new neighborhood and don't forget to update pet collars and micro-chips with your new address and contact numbers.
Pet Friendly hotels
If it takes more than a day to get to your destination, you and your pet may want to take a break from the road and rest up in a hotel. To find out which hotel chains will roll out the welcome mat for your little fuzzy snuggle muffin, check out Pet Welcome. The site lets you search by motel, hotel, and even vacation rentals. Some hotels are more than accommodating, they're downright inclusive. At the Loews Coronado Bay and Resort in California, for instance, owners can send Fido to a doggy surfing lesson. The package also includes a special surf-n-turf dinner.
Need help hauling the big stuff during your move? We offer Penske truck rental to make the job easier. Reserve online today.