Meet Tim, Manager at U-STOR Northwest!
U-STOR wouldn't be one of Wichita's best storage unit companies without our amazing managers. "Manager Minutes" are quick interviews we have with our managers to get to know them a little better.  We'd like to introduce you to Tim West, Manager at U-STOR Northwest!
Tim started with U-Stor in January 2020 and moved up to become Manager of U-Stor Northwest in August 2022. Thank you for your dedication to getting to know our tenants on a personal level and for your superior customer service, Tim!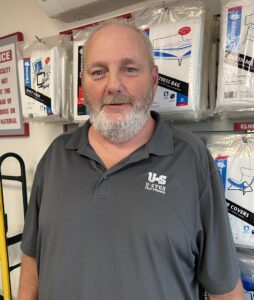 What is your favorite thing about working at U-STOR?
My favorite thing about working at U-STOR is that it is a small local company. Everyone knows each other and will help each other when needed. They are also very good to the tenants. They aren't just a number at U-STOR.
What is the biggest challenge you've overcome during your years at U-STOR?
I enjoy getting to know the tenants and helping them when they need something.
What are some of your favorite things to do/hobbies outside of work?
I enjoy spending time maintaining my aquarium and watching the fish. I also enjoy spending time with family and friends.
What is one talent/feature about you that not many people know?
I really enjoy history. Especially family history. I traced my family history back to the 1700s. I have helped several friends with their family history as well.
What is the strangest thing you've encountered during your time at U-STOR?
I found an old coffin in a unit once that we were doing some repair work on!
U-STOR Northwest proudly offers secure storage units in north Wichita. We offer cheap storage units with our ongoing monthly move-in storage specials (climate controlled storage units included), moving supplies & moving boxes, Penske truck rentals, and some of the best customer service around. Read what our customers have to say and reserve your cheap storage unit with our move-in special!