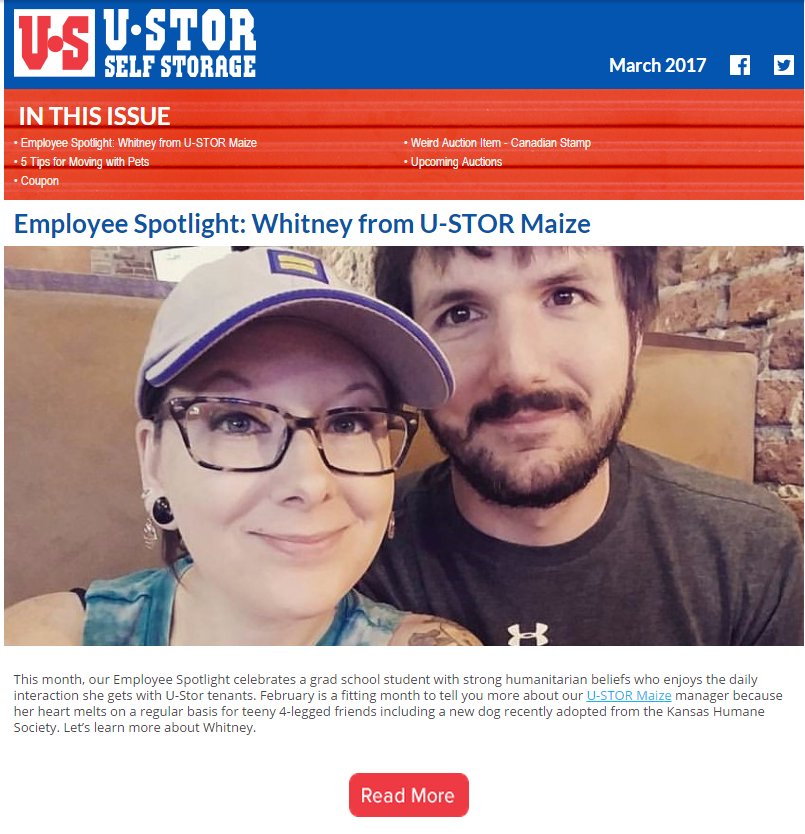 In each issue of the U-Stor newsletter, we provide readers with helpful information they can use in their daily lives. We also reveal auction times, coupons/specials, and share the many weird items people have found in storage units over the years.
Featured in the March Newsletter
Employee Spotlight: Whitney from U-Stor Maize – This month, our Employee Spotlight celebrates a grad school student with strong humanitarian beliefs who enjoys the daily interaction she gets with U-Stor tenants. Let's learn more about Whitney.
5 Tips for Moving with Pets – Moving to a new home is an exciting, albeit stressful time for the whole family including our pets. Before you start packing the moving truck, take a few minutes to read the tips below. Taking the proper time and care to prepare your four-legged pal for new surroundings, a different neighborhood, and riding in a vehicle or plane, will make the trip more enjoyable for everyone.
Upcoming Auctions – At least twice a month we hold auctions at one or all of our seven U-Stor locations. Auctions are silent bid only. Follow us on Facebook to find out when storage units are available for preview. Open the newsletter to find dates and locations.
Weird item of the month – Hint: Expensive postage