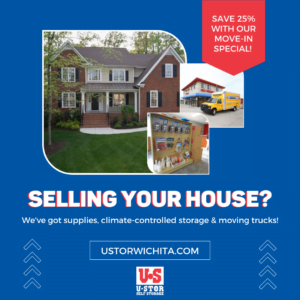 This housing market is as HOT as our Kansas summer triple-digit temperatures! Sellers are taking advantage & moving into apartments or downsizing until the market changes – and U-STOR is here to help with all things moving supplies at all of our Wichita storage locations.
We're your local one-stop shop for:
Plus, ground floor, drive up storage at every location means you can zip in and out to avoid the heat. Get cheap storage with our move-in discount and reserve your unit now!
Psst! You can also save an extra 10% on our moving boxes and moving supplies by signing up for our monthly email updates at the bottom of this page.