An Art studio? A personal gym? A Music Space? storage unit use gets creative due to social distancing.
When you think of a self-storage unit, you probably picture boxes, furniture, art pieces, old photos, keepsakes, or workout equipment. You know, stuff that's not often used.
But we're seeing more and more nontraditional uses of storage units due to COVID. Because of social distancing, so many Wichita storage units at our 7 locations are becoming many of our customers' "home away from home," a place to focus (or go when they're out of room at home).
Making the Most of Climate-Controlled Storage Units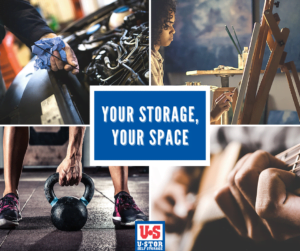 U-STOR's climate-controlled storage units offer car fanatics and mechanics alike not only a place for extra car storage, but a comfortable car garage on them despite weather changes. Artists can create an art studio, a quiet place to comfortably paint and keep their work safe with climate-controlled storage. Would be gym rats can avoid being around the public and all the sweaty, dirty exercise equipment that comes with it by creating their own personal gym to better focus and use their own clean equipment. Musicians can enjoy their own music space to play and store instruments safely in climate-controlled storage.
We're all about getting your money's worth when it comes to finding "cheap storage units near me." Check out our monthly move-in specials and get saving at one of our 7 convenient Wichita storage locations!