Spring is Here! On Top of Spring Cleaning, Climate Controlled Storage Should Be at the Top of Your List. Here's Why!
While traditional storage units are great for protecting valuables, climate-controlled storage units maintain a consistent temperature and humidity level. This protects your belongings from extreme temperatures (by the day for us Kansans:), moisture, and pests. Here are just a few of the many reasons why air-conditioned storage is worth considering this spring:
Protects Your Belongings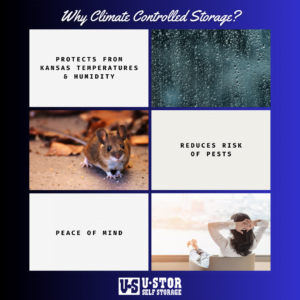 Climate-controlled storage units provide the ideal environment for storing delicate items such as antique furniture, electronics, artwork, instruments, fabric, or important documents. Extreme Kansas temperatures & humidity can damage these items over time – causing them to warp, crack, or decay. By choosing a climate-controlled storage unit, you can preserve keepsakes and keep valuable items in good condition for years to come.
Reduces the Risk of Pests
Climate-controlled storage units are typically sealed, making it harder for pests like rodents and insects to enter. Temperature and humidity levels are also not ideal for pesky pests' growth and reproduction. With a climate-controlled unit, you'll minimize the risk of infestation, saving you the hassle and expense of dealing with pest problems down the road.
Provides Peace of Mind
Choosing a climate-controlled storage unit also gives you peace of mind. You don't have to worry about the effects of extreme Kansas temperatures or humidity ruining your items, and can rest assured that they're in good hands. Not only will your delicate or valuable belongings be protected from temperature or humidity damage, but you'll also have peace of mind with U-STOR's 24-hour surveillance and on-site management.
Looking for the Best Climate-Controlled Storage Prices? Get Cheap Climate-Controlled Storage Near You!
U-STOR has 7 Wichita storage unit locations and monthly cheap storage unit specials (climate-controlled storage included). We also offer Penske moving truck discounts as well as moving supplies and moving boxes at all locations.  Reserve a cheap climate-controlled storage unit near you!