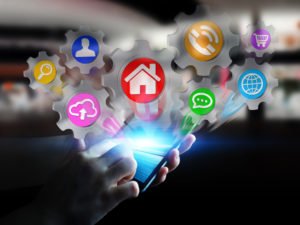 Twenty years ago, if you wanted to move to a new house or apartment you grabbed a few boxes, called a buddy with a truck, bribed him with pizza and you were done. The only high tech component was a cell phone that did one thing, made calls. Now, most of us carry a tiny PC right in our pockets with apps that can reserve the moving truck, locate a new home, organize the process, sell your old stuff, and get everything hauled where it needs to go. Plus, it will order the pizza you promised your buddy.
Your relocation process just got high-tech and we have the top five apps to help you every step of the way.
Find Your New Space
Zillow & Zillow Rentals – Named one of the top five best apps for house hunting by U.S. News and World Report, Zillow is a popular real estate site offering a comprehensive list of houses and apartments. Search filters help users narrow down their must-have bathroom/bedroom requirements. The app has several unique features including the ability find a home near a preferred school district, and even see a list of local pre-foreclosure and bank owned properties. Users enjoy the fast-load capability and number of pictures available on the site.
Start The Countdown
MoveAdvisor – If the thought of creating a moving to-do list makes you curl up in a stress ball, you need the MoveAdvisor app. Touted as, "Your personal moving organization app," MoveAdvisor offers a drag-and-drop home inventory section to keep track of household items, a week-by-week moving timeline with interactive tools to monitor important timeline activities, plus reviews and cost estimates for movers in your local area. Users enjoyed the bright design, the price (free), and the ability to organize everything in one place.
Pack It Up
Sortly – This personal packing system is perfect for the highly organized individual who likes everything in its proper place, and also for the person who packs the Cheetos next to the bowling shoes. The app makes it easy to snap a picture of your item or the contents of a box, and then categorize it (with categories you create). The Sortly app can then create labels with QR codes so you can quickly remind yourself what's inside the box without opening it up and digging through it. Sortly also offers quick access to Evernote, auto backup and sync features, and even PDF exports to Dropbox.
Get Rid of the Clutter
ThredUP – When you move, you'll be cleaning our your closet anyway, so use the time wisely and get rid of some stuff. ThredUP is an online consignment shop that buys and sells gently worn name brand items. Selling clothes to ThredUP is as easy as requesting a clean out kit and boxing up unwanted items. The payout is immediate for some items, and "eventually" for others. ThredUP pays more for current fashion styles and tag-on clothing. Known for their philanthropy, ThredUP donates a portion of their annual profit to a number of charities.
Move it Out
Lugg – The worst part of moving is the actual hauling of the stuff, amiright? Lugg promises to take the agony out of moving with their on-demand moving and delivery service. Using the Lugg app, you can request your pickup location and destination, then choose the size of truck or van you think you'll need. You can even pay, rate your "luggers" and tip using the app. Lugg not only wants to be your top-of-mind moving service, they also want you to know they're available for all of your lugging needs including junk removal, donation, Craigslist purchases, and even store pickup.