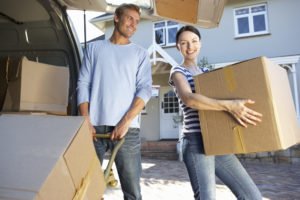 After you rent the moving truck it's time to haul boxes and furniture into it with reckless abandon, right? Wrong. Taking a little time to plan ahead will allow you to maximize space and keep your belongings snugged in tight…but not too tight. Remember, U-STOR offers Penske truck rental at our Maize, Northrock, and West Central locations.
 GATHER SUPPLIES 
The moving truck is an essential part of the process, but you'll need a few miscellaneous items to assist you.
Two-wheeled dolly
Packing straps
Workman's gloves
Old rugs or blankets to prevent scratching
Tarp for the bottom of the truck
Moving sliders. Place under items to help manipulate into place.
BEFORE YOU START LOADING
Plan Ahead – Make a mental plan (or write a quick diagram) of items that need to be loaded first, second, and last.
Pets – During the packing and unpacking process, pets can become scared, confused, or simply get in the way. Choose a room they can be secured in with minimal food, water, and a comfort item. You can find more tips for moving with pets – HERE.
Traveling Overnight – Before you load everything you own into the depths of the moving truck, be sure to pack a bag with essentials. Keep those bags separated in the trunk of another car or the cab of the truck so they'll be handy when you get to the hotel.
PACK LIKE PENSKE
Our partners at Penske suggest thinking about your moving truck like a capital "I."
Load heavy items like the refrigerator, washer/dryer, entertainment center etc. along the back of the truck near the cab. Bed frames can go here, as well.
Use tie straps to secure items that could roll, fall over, or otherwise disturb the feng shui of your packing process.
Next, slide in desks and dining room tables. Boxes of heavy items can be tucked underneath.
Place sofa cushions and bed mattresses along the left-hand side of the truck.
Couches, loveseats, and chairs get stacked on the right-hand side.
Finish up the "I" by loading boxes down the middle, starting with the heaviest and ending with the lightest items.
Remember, in addition to Penske truck rental, U-STOR also offers packing and moving supplies at all seven of our Wichita and Maize locations.