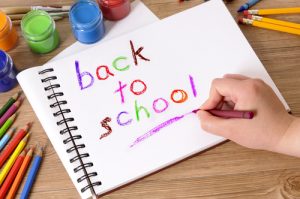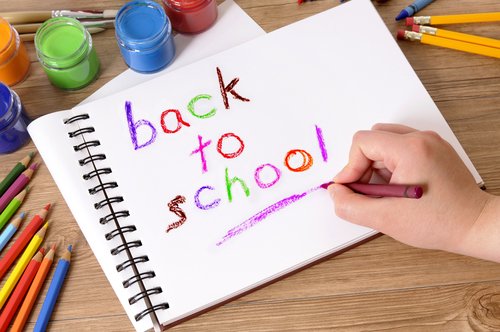 Across the nation, summer break is ending and teachers are ready to welcome eager (and not-so-eager) students back to class. While the school rooms may be neatly organized for another year of day-to-day studying, testing, reading, writing, and math-ing, home might be a different story. If you are still dragging your feet about summer coming to an end, pick up those swim suits off the floor and let us help you get ready for busy mornings, homework, and all those PB&J sandwiches. The less stress back to school organization guide starts NOW!
Shop The Closet First
Before you spend a dime on new school clothes, go through all closets and drawers first. Yes, it seems like a daunting task, but if Little Jimmy had a growth spurt during the summer you'll need to budget more for a whole new wardrobe of jeans and pants. Sweaters can probably wait until colder weather arrives. If you need a place to store all those clothes that don't fit while you wait for garage sale season, U-STOR has a variety of self-storage units available.
TIP: To get more cooperation from kids, turn up the radio and tell them it's a fashion show. 
Create an Important Stuff Zone
The important stuff zone is the command center of the home/school organization operation. Use tubs, hanging folders, baskets and dry erase boards in one designated area to keep track of time-sensitive and other essential items including:
Permission slips
School IDs
Homework folders
Dry erase board for grocery/supply list
Basket for library books. Attach a small chalk board to keep track of due dates.
Start a Home File 
If you're not careful, all those take-home papers can become a pile on the kitchen table. Use a simple small file sorter to keep track of papers that need to be saved. Have the file sorter and small trash can nearby as you sort papers so you will only touch them ONCE. Items to file include:
Graded work needed for reference
Homework schedule
Handouts
Flyers for upcoming parties and other school events
Grab & Go Lunch Area
Aside from choosing what to wear, making daily lunches can be one of the most time consuming and stress-inducing part of any school morning routine. Get this task down to a few short minutes by reserving one corner of a pantry or cupboard for lunch-related items:
Empty plastic containers with lids
Lunch boxes or brown paper bags
Thermoses
Individually packaged items – almonds, raisins, chips, crackers, jerky, cookies, etc.
Pre-made snack bags (start an assembly line on Sunday night and make these ahead)
TIP: During the school year, fill one refrigerator drawer with mom-approved food for easy-grab snacks and lunch items
Homework Station
Even if your child's school does not assign homework, he/she would still benefit from a designated area where they can work on projects and study for tests. A small corner of a room will suffice, as long as it's clean, uncluttered, and relatively quiet. Ideally the space would look something like this:
Small table or desk
Comfortable chair
No excessive distractions (not in view of television)
Basket or bin of necessary supplies
TIP: Avoid a last minute frantic run to the store by stockpiling common project supplies – poster board, glue, markers, printer paper, ink cartridge, etc.
Finally – Use a large family calendar to keep track of important dates and school-related activities. Use school website and handouts brought home from children to mark dates as far in advance as you can. Being able to schedule and plan accordingly will make the school year less stressful for you and your child.