School's (Almost) Out for Summer – So cheap Student Storage is in Session!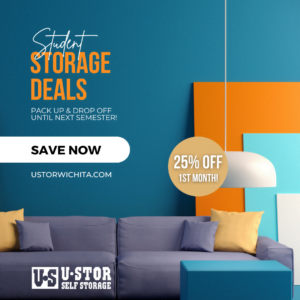 It's that time again. Flowers are blooming, the smell of freshly cut grass is in the air…and nearly freed students will flock from their dorms for summer break. So, what to do with all that stuff? Get cheap student storage at U-STOR Self-Storage!
If you're a college student, you know that finishing (and acing) finals and being freed for summer break is one of the best feelings! But if you live in a dorm, you know the dreaded feeling that follows…getting moving boxes, moving supplies, packing up, then lugging your stuff somewhere to wait until next semester.
U-STOR University near offers safe, cheap student storage conveniently near Wichita State University while U-STOR Indian Hills offers student storage near Friends University or Newman University. All of these locations are part of our monthly move-in special to save on your student storage!
U-STOR Northrock is also conveniently located off K-96 for Butler, WSU Tech, or other east Wichita storage. Right now, U-STOR Northrock has even cheaper storage with a $25 move-in special (Northrock location only).
Whichever Wichita storage location you choose, you can count on an easy one-stop shop for moving boxes & moving supplies. We also offer cheap moving truck rentals with our Penske truck discount and month-to-month leases so you're not stuck! You can also access your storage unit 24-7. We have onsite management, ground floor storage (no lugging up and down elevators), and 24-7 surveillance at every U-STOR Wichita location. Hurry and reserve your unit!