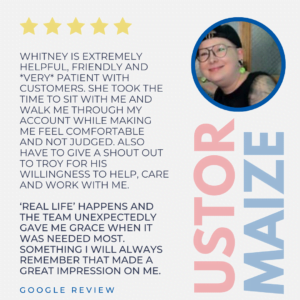 In 2022, U-STOR celebrated our highest occupancy rate in years (thank you for choosing local storage, Wichita)! We were also awarded as one of the Best Storage Unit Companies in Wichita and received so many kind customer reviews to validate our award.
One U-STOR Maize review in 2022 really stuck out to us. We'd like to give a big shoutout to our longtime U-STOR Maize Manager, Whitney, and our Property Manager, Troy for their amazing dedication to our customers. Here's to great reviews in 2022 and making more customers happy in 2023!
"Just wanted to say that Whitney is extremely helpful, friendly and *VERY* patient with customers. She took the time to sit with me and walk me through my account while making me feel comfortable and not judged. Also have to give a shout out to Troy for his willingness to help, care and work with me with he didn't have to. 'Real life' happens and the team unexpectedly gave me grace when it was needed most. Something I will always remember that made a great impression on me." 
Congratulations to Whitney, and if you've worked with her – we invite you to leave U-STOR Maize a review of your own! U-STOR is currently running our 50% off cheap storage special and have climate-controlled storage units available at this Wichita location. Reserve your cheap storage unit now!