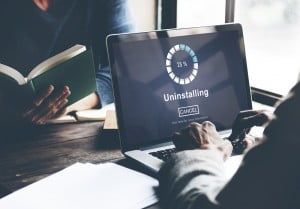 When we talk about spring cleaning, many of us focus on the physical task of decluttering closets and spraying off patio furniture, but your personal computer also needs a little routine TLC. And we don't mean simply dusting the screen or shaking the crumbs out of the keyboard, but that's a great place to start. Removing old files, documents, and photos can increase storage space and make your system run faster. Yay for increased productivity.
Desktop Jungle
The computer desktop is a great place to display frequently used programs, but if your screen looks like a game of Where's Waldo, it might be time to delete a few icons. Remember, folders are your friend. You can even layer one inside the other for maximum organization. The photo you took of your cat in a Santa hat is cute, but it doesn't need to be floating around on the desktop. Drop it in a folder labeled, "Adorable Cat Snaps." And don't forget to send duplicates to the Recycle Bin. If it's already in your download folder or another designated space, you don't need another one.
Emptying the Recycle Bin is Cathartic
Once you've dragged and dropped all those unnecessary items over to the Recycle Bin, empty it. I know, it's tempting to think of that little trash icon as file purgatory, but you just have to channel your inner Disney Princess and "let it gooooo, let it goooo." If files are in the bin, they're still taking up valuable hard drive space so make them disappear for good.
Your Files are Special – Name Them
One of the best ways to organize your pictures and files is to go through each folder and give items actual names. How many of your pictures are labeled something like, "IMG_0334?" That's no way to document the special moments in your life. Taking time to rename files will help you find duplicates, create subfolders, and most importantly help you avoid deleting something really important.
Backup Your Cat Snaps
If you've ever been clicking away on the computer only to lose what you were working on because of a power outage or other anomaly, you know how frustrating it can be. Imagine if you lost an entire hard drive of information. To save all those adorable cat snaps, tax forms, manuscripts, game files, and other vitally important bits of data, you need to backup your computer on a regular basis. We recommend moderately priced backup and recovery software or a cloud drive like DropBox.
Don't Forget The Germy Dusty Nooks and Crannies
Finally, grab a cloth, cleaning spray, and canned air to make sure the outside is as clean as the inside. Over time, your computer picks up dust and debris that can clog up the fan and other components. This is especially true if the area around the computer is not properly ventilated. Use a few bursts of compressed air to clean the gunk out of keyboards and other components. Finish by wiping down keys and external mouse or touchpad with an antibacterial wipe to kill germs.
If you don't have time to finish all five tasks, don't worry, work on one section at a time. To keep from feeling overwhelmed, set a timer and promise to spend 10, 15, 20 minutes doing as much as you can until the timer goes off. If you keep at it, eventually you'll have a computer that is more organized, runs faster, and certainly more enjoyable to work from.