U-STOR News
U-STOR news will keep you up to date on our storage specials, storage tips, auction news, and events!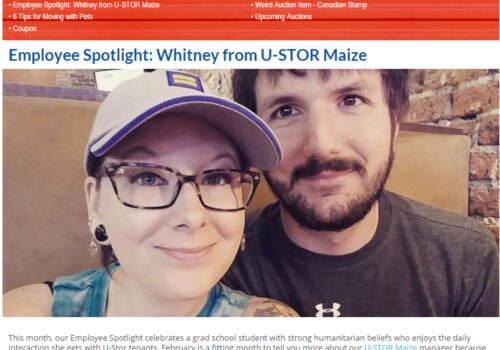 In each issue of the U-Stor newsletter, we provide readers with helpful information they can use in their daily lives. We also reveal auction times, coupons/specials, and share the many weird items people have found in storage units over the years.
Featured in the March Newsletter
Employee Spotlight: Whitney from U-Stor Maize – This month, our Employee Spotlight celebrates a grad school student with strong humanitarian beliefs who enjoys the daily interaction she gets with U-Stor tenants. Let's learn more about Whitney.
5 Tips for Moving with Pets – Moving to a new home is an exciting, albeit stressful time for the whole family including our …